We can drive significant change using the large data resources available across retail and FMCG.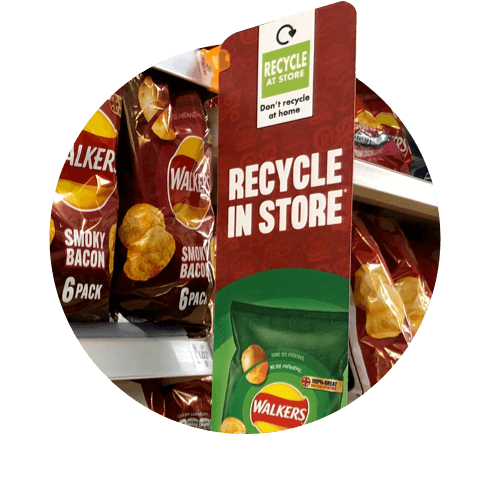 Introduction
Leading the way to sustainability
We all know that sustainability is important and urgent. But it's complex, nuanced, and personal. It confuses and frustrates customers (Nectar360, 2022) as they're looking for brands and retailers to help them make sustainable decisions.
When asked about sustainability, most customers think of plastic and recycling (Deloitte 2022). This is likely because of the 2003 Household Waste Recycling act and recent change to behaviour across most homes in the country. But, sustainability is so much more than separating our rubbish into different bins. From food waste and healthy eating to community and human rights. Not to mention the environmental concerns like carbon footprint, provenance and water consumption.
In late 2022, we ran trials with partner clients to understand customer attitudes to fully branded marketing material instore, all sustainability related. The results were stark- customers want to make changes, but want brands and retailers to pull their weight. In our research, customers felt like lots of the responsibility was passed onto them (for example, at home recycling and meal planning to avoid food waste etc). They felt that packaging and recycling infrastructure was complicated and that 'eco' brands were generally at a premium.
Sustainability is highly emotive, often intangible to individuals and ever-evolving. This complexity means that customers are looking to brands they trust to help them navigate this challenge, particularly within food and FMCG as essential purchases for all households.
We can lead this charge. Nectar360 have access to granular data that can help our clients understand behaviour and attitudes.
Economic impact
As the cost-of-living crisis deepens, the focus on sustainability could derail.
Nectar360's instore research demonstrated that the economic crisis is impacting customer motivation and behaviour. Cutting food waste becomes more about not wasting money, than not wasting resources. Although the behaviour may be the same, the customer sentiment is now likely to be significantly different for huge parts of the population as a result of financial challenges.
Given this worsening economic backdrop, sustainability could also easily drop further down the priority list for brands, retailers, and customers. The gap between sustainable action and intention could further widen (Savanta, 2022). After all, feeding your family with good value food and paying household bills is likely to be more important to individuals than less tangible, global environmental concerns. How can we stop this shift in mindset? We need to democratise sustainability. We need to ensure it's not just an interest for affluent customers.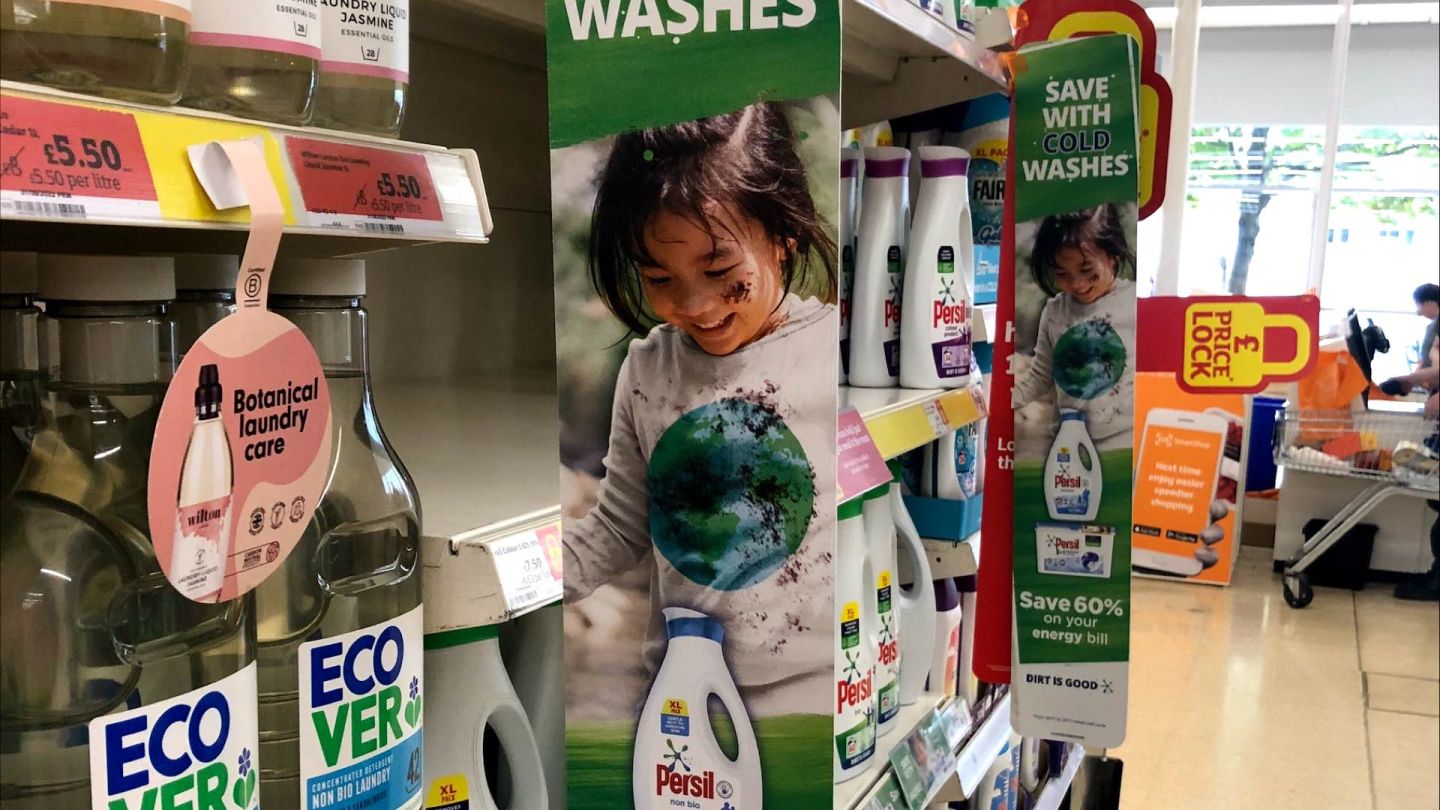 Legal landscape
Schemes are launching across the UK to drive behaviour change.
HFSS (high-fat salt and sugar) health legislation was launched in England in late 2022. Although it's very early to see significant impact of attitudes and behaviour, the Nectar360 Grocery Tracker has shown us that there hasn't been a significant change in basket share of compliant and non-compliant products since the law came into place. This lack of basket share change is also consistent across all age groups.
In Scotland, the Deposit Return Scheme will launch in 2024, with the roll out for the rest of the UK planned for late 2025. The scheme encourages the return of some plastic and glass bottles and cans, across hospitality and retail for a deposit. This legislation follows the change in the law around single-use plastic cutlery, showing the importance of environmental issues on governmental policy.
Legal change is one way of forcing behaviour change. But how could retail and FMCG drive behaviour change for the good of the planet and our communities?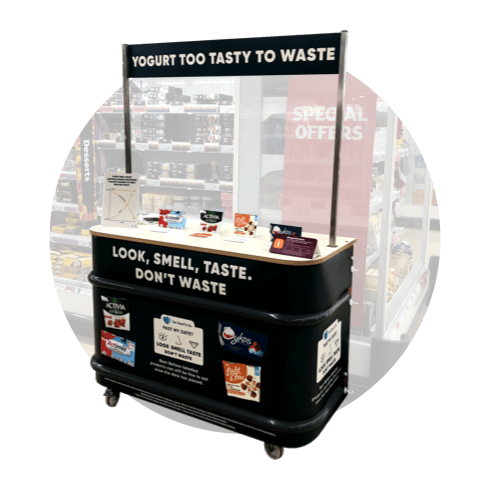 Our solution
A helping hand from data
Retail and FMCG industries have a high level of data maturity. It's been 21 years since the launch of Nectar in Sainsbury's. And there are over 17m users* within Sainsbury's. That's a lot of data! FMCGs can tap into this and enhance their understanding of one of the UK's largest supermarkets by working with Nectar360 and Sainsbury's.
Connected data is key
Looking at purchasing behaviour in isolation doesn't tell us the full story.
We need to know the 'why' behind the 'buy'. By connecting customer data points, we get the full picture. Are customers switching to eco-cleaner because it's eco, or because is it on price promotion? Using this information alongside other data points we can create a media strategy that drives behaviour change.
Tagging the correct data points for products or customers across brands and categories enables understanding at scale. By doing this we can track behaviour and attitude changes over time. We can then assess the impact of interventions and changing customer purchase behaviour. We can also understand influences from out of the store media, digital placements or instore campaigns- or a combination of all.
Linking these data points generates insights. And helps make decisions around ranging, pricing, promotions and product listings. We can then create communication strategies across categories and brands, that incentivise and educate customers about issues and reward them for interacting.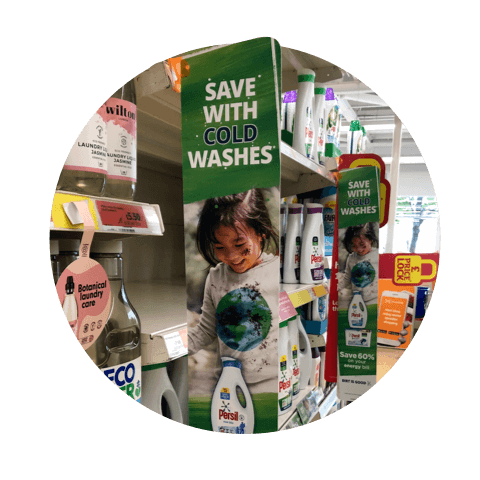 Recommendations
Customer-first
Be relentless in your customer-focussed thinking to be successful in sustainability. Below are three key points for brands to think about…
Measurable KPIs
Large businesses tend to share their sustainability targets at a corporate level.
But to really drive change, they should be included in annual or quarterly KPIs. Are sustainability goals as important as profit and volume growth? Are attitudes measured as well as harder sales metrics? Are your business sustainability focus areas aligned to your customers? Do your goals align to issues and metrics that customers understand and care about?
Understand not assume
Recognise that different types of customers are travelling at different speeds on their sustainability journey.
Customers understanding of sustainability varies. Ensure communications are simple, focused, and clear – don't try and be too clever, or say too much as it won't land or be understood
Behavioural economics
Use these principles to drive behaviour change:
Social proof
Use data playback. This could be the ability to share how 'sustainable' your choices are with others. Examples of this are Sainsbury's 'Fruit and Veg Challenge' or the 'Check You Out' year-in-review.  This can bring another, more competitive angle to behaviour change, and increase engagement and usage.
Temporal discounting
Use rewards to give customers immediate, tangible valuable incentives such as points-based incentives for making sustainable choices ie: buying into refills or trading into recyclable products. This could help customers understand that multiple, small changes make a big personal difference, as well as a broader global impact.
Choice architecture
Influence decision-making to make the 'right' sustainable decision the easy choice. This could be achieved through ranging or merchandising, ensuring the most sustainable products are ranged at eye level, have good availability and strong distribution. Online, ensure search terms are accurate and consider shelf naming conventions or icons to enable a frictionless customer journey.